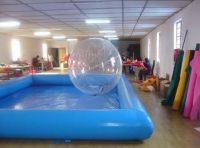 With summers coming up, everyone wants to beat the heat by taking a dip in cool water swimming pools. Of course, your local neighborhood community center's swimming pool may already be overcrowded with nearly everyone calling dibs on the pool. And there's also the question of cleanliness, as youre not sure if the water has been properly disinfected.
Thinking about expensive memberships at recreational facilities which offer clean and hygienic swimming pools is already going to give you a head-ache. Not many can afford expensive health-club memberships, and even trying to build a real pool in your back-yard is going to cost you tons of money, plus compromise a lot of garden-space.
Never fear though, as inflatable swimming pools are here to save the (hot summer) days. Getting an inflatable swimming pool is the best alternative to have a portable pool that you can use in the summers and put away as the mercury begins to drop. The best part is that it can be used anytime, and anywhere. Simply lay out the deflated pool and provide the necessary air using the air-pump, and viola! You have your very own backyard swimming pool.
Inflatable swimming pools come in a variety of sizes and shapes. Ranging from small ring-shaped pools ideal for up to 3 kids, to even large rectangular or oval shaped pools that can fit in a whole group of grown-ups, you can get high-quality inflatable swimming pools as per your requirements. Small inflatable swimming pools are generally for 3-4 children whereas larger swimming pools can accommodate nearly 8-10 adults. As long as you have the garden-space to accommodate it, you can throw your very own pool party at the fraction of the cost of building a pool.
Inflatable swimming pools are ideal for home-owners who cant afford to build a fixed swimming pool, who have practical uses for their garden and back yards etc. Even if you don't have a back yard, you can still use an inflatable swimming pool on the roof or terrace, depending on the space.
 
Click here to view suppliers of Inflatable Swimming Pools at TradeKey.com
More articles by this author:
Solar Toys help teach children become greener
Collecting Die-Cast Model Cars
Action Figures – Growing up from Boys to Men