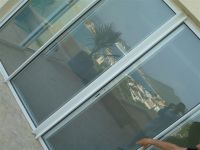 We've discussed earlier about how aluminum blinds can enhance the appearance of your windows wherever they might be, either home or work. Now we're about to look at

aluminum windows

, and what their benefits are.
Aluminum windows come in two types: the most common ones are aluminum window frames with glass panels installed in the center, and the second are aluminum window frames with aluminum slats or netting instead of glass. The windows themselves are either hinged or sliding. The glass panel in aluminum windows provides visibility and keeps any insects out of the house.
In the past, such windows had a wooden frame. While the wooden frame was much more rigid and durable, the frame itself would require annual coats of paint to protect it from weather conditions. Also, the wooden frames would be heavier and difficult to operate especially in cases of sliding.
Aluminum was chosen over wood in window frames due to their light weight, durability, and its amazing corrosion resistance in different weather conditions. Aluminum windows require no paint or coating to protect them from rain, winds and other harsh weather conditions.
As aluminum is a lightweight metal, the installation and handling of aluminum windows is relatively easy. Aluminum's light weight makes sliding aluminum windows much easier than their wooden ancestors. Aluminum has amazing anti-rusting qualities and aluminum windows retain their strength and rigidity over a long period of time, which make it THE preferred choice for window frames.
Aluminum windows (or storm windows as they're referred to in the USA) and aluminum doors are ideally used to provide insulation from both hot & cold weather. Typically, screen aluminum windows with aluminum netting or aluminum slats are used for regions with warmer temperatures, while aluminum windows embedded with glass panels are ideal for colder climates.
Aluminum windows are energy efficient in the sense that they keep the cool air from air-conditioning inside the room during the summer, and maintain the heated room temperature during the winter. In case if neither heating nor air-conditioning is active, the aluminum windows can be either slid open or flung open on its hinges to allow cross ventilation.
The glass panels within the aluminum windows are secured with rubber or silicone sealing. The sliding mechanism in the aluminum windows is standard slide wheels used in windows, which mean that installing & using aluminum windows is nearly inexpensive. The aluminum windows come in a variety of sizes and types, depending on the opening of the window space itself. Aluminum windows can also be customized with different thickness and weight, with heavier aluminum windows providing far better insulation and sealing.
Click here to view suppliers dealing in Aluminum Windows at TradeKey.