An overview of aluminum fences, their advantages, benefits and overall value for money.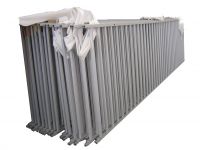 Perimeter fencing is one of the most important things to add while building a house. Fencing serves a purpose of both security and privacy, while at the same time providing a border between various sections of a house. And of course, they can be really beautiful to look at the same time.
Aluminum fences have been used in residential fencing for decades now. Unlike ordinary cast-iron or steel fencing, aluminum fencing offers impressive resistance to rust and corrosion thanks to the wonderful properties of aluminum. Typically, aluminum fences for residences are made up in panels, meaning that they don't need to be welded together. A base rail runs along the path of the aluminum fence, where the panels are put into place and held together by a unique retaining rod, eliminating the need of exterior fasteners.
While aluminum itself is a silvery metal in appearance, aluminum fences can come in a wide variety of colors after proper paint and coating. Since aluminum is a flexible metal, there are a myriad of aluminum fence designs & styles that homeowners can select that is ideal to the residential architecture.
The major advantage that aluminum fences have over other metal fences is their anti-rust and anti-corroding properties, which means that they don't need to be repainted, nor do they need periodical maintenance. So no more worries about the paint job peeling off. Aluminum fences are durable, lightweight, and with the right design & style, they make a great addition to new homes or remodeling projects.
Installation of aluminum fences is rather easy, particularly for do-it-yourself enthusiasts. All items that are required to assemble the aluminum fence are included in the package (depending on the vendor you're purchasing from.) The only other material required to assemble the aluminum fence is concrete and concrete forms needed to anchor the aluminum fence to the earth.
If you've ever had wooden fencing before, chances are that you may have faced termites that rot away the wood in due time. Not with aluminum fences, considering that you might need to fence a lot of landscape such as gardens or parks. Aluminum's rust resistance is ideal for using aluminum fences for swimming pools or lakes. Cleaning aluminum fences is easy, as it normally requires dusting.
Decorative aluminum fences, especially those in sync with the overall architecture of the building, also provides an added value to the overall property in case you ever want to sell f your establishment.
Click here to view suppliers dealing in aluminum fence at TradeKey.